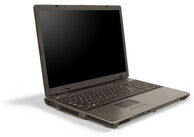 The Gateway PA6A chassis is a 17" widescreen chassis with a tungsten lid and palmrest with black accents and a black LCD bezel and base. The external parts are all ABS plastic. The system base has a complete magnesium skeleton to protect the innards and provide rigidity to the palmrest and overall unit.

The PA6A chassis is used in the MX8700 Series.
Ad blocker interference detected!
Wikia is a free-to-use site that makes money from advertising. We have a modified experience for viewers using ad blockers

Wikia is not accessible if you've made further modifications. Remove the custom ad blocker rule(s) and the page will load as expected.