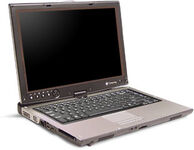 The Gateway CX series consists of 20 14.1" widescreen convertible tablet PCs. The oldest of the series uses Dothan-based Pentium M & Celeron CPUs and the newest has a Merom-based Intel Core 2 Duo CPU. All models feature a front-facing 5-in-1 card reader, 3 USB 2.0 ports, FireWire and a modular bay that supports an array of optical drives or an optional secondary battery. All models have a 180-degree rotatable 14" WXGA LCD with either a FinePoint or Wacom digitizer. The models either use the
TA1 Chassis
, the
TA6 Chassis
or the all-black
TA7 Chassis
.
Dothan-based Pentium M / Celeron M Models
Edit
Yonah-based Core Duo & Merom-based Core 2 Duo Models
Edit
Ad blocker interference detected!
Wikia is a free-to-use site that makes money from advertising. We have a modified experience for viewers using ad blockers

Wikia is not accessible if you've made further modifications. Remove the custom ad blocker rule(s) and the page will load as expected.